Welcome to La Guaca Hostel, a beautiful remodelled mansion very close to the historic centre of Santa Marta, located in Bavaria, a safe neighbourhood of the city very close to a variety of restaurants and shopping centres.
La Guaca Hostel is the best spot for backpackers and travellers of all kinds: group of friends, couples, solo travellers, gays, flash-packers, volunteers, artists, sport athletes, surfers, and all of you that are seeking quality on a budget.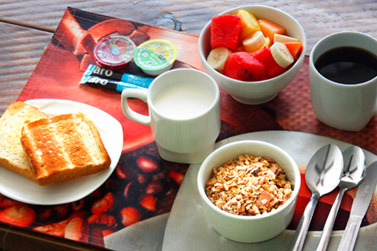 We offer you a fully equipment kitchen, free coffee in the morning, two different types of delicious breakfast freshly prepared, lockers for valuables, a pool with jacuzzi open all day long to cool down the heat of sunny days, tv room with Direct-Tv and an open lounge area full of hammocks to chill, read a book from our book exchange section, or simply connecting with the world using the free wi-fi.
All our dorms are very spacious and comes with air-con, private lockers and en-suite bathroom, while our private rooms have also air-con for those looking for a bit of luxury. Our great facilities will make you feel at home with all the comfort you need.
Our storage room is big enough to keep your luggage free of charge while you are out exploring the surroundings. We also provide laundry service and towel rental, along with snorkel and bike rental.
Cra. 8 No. 27 – 75
(frente al conjunto residencial Parque Central Bavaria)
SANTA MARTA (Magdalena) – Colombia
Tel. 605 430 53 73
Cel. +57 317 370 3516
Cra. 11 No. 17 – 49
SANTA MARTA (Magdalena) –  Colombia
Tel. 605 436 35 14
Cel. +57 301 768 8641
www.cacaohostel.com